FORB Pro Driving Range Golf Practice Mat
FORB Pro Driving Range Golf Practice Mat

ELITE-LEVEL FORB GOLF TRAINING MAT FOR ALL DRIVING RANGES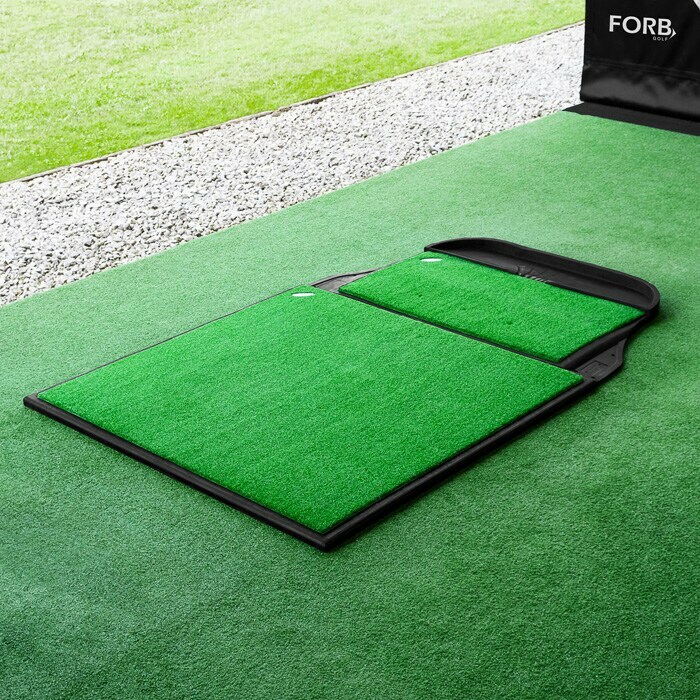 VARIOUS PRACTICE TYPES
Designed with a simple assembly in mind, the professional golf mat allows players to practice all types of shooting technique with a dual mat design.
GAME LIKE MAT
Manufactured with a 15mm (0.6in) turf a golf course-like feel, the professional mat allows players to play their golf game in all conditions thanks to the smooth surface.
ADDITIONAL BALL TRAY
The FORB Golf Hitting Mat is supplied with an additional ball tray to store golf balls, being ideal for individual practice which minimizes ball retrieving.
Description
LONG LASTING DRIVING RANGE MAT WITH INCREASED STABILITY
The professional FORB Pro Driving Range Golf Mat provides players the opportunity to practice their iron game and driving technique, which offers both stances available to practice. The top-quality 15mm (0.6in) artificial turf allows an elite-level game feel, which is also highly durable thanks to the all-weather proof construction. Manufactured with an additional rubber ball tray for convenience, the long-lasting golf mat is designed with an anti-skid rubber for increased stability. Manufactured with golf tees for an easy set-up, the driving range mat can be effortlessly assembled in a quick manner. The robust driving range mat guarantees a life-like fairway simulation for an optimum level of practice.
Professional level 15mm (0.6in) turf for a genuine game-like feel
Allows players to perfect stances for driving and iron shooting technique
Anti-skid rubber base allows top-quality grip for base of mat
Allows golfers to practice their shooting technique without uprooting turf
Additional rubber ball tray is attached to conveniently set up your next shot
FORB offers a wide range of golf mat equipment. For more, please browse the Hitting Mat category.
Specifications
FORB Pro Driving Range Golf Mat Specifications
Dimensions:
Stance Mat: 3.8ft x 3.8ft | 1.1m x 1.1m
Anti-Skid Rubber Base: 4ft x 4ft | 1.2m x 1.2m
Fairway Mat: 3ft x 2.6ft | 0.9m x 0.8m
Overall Size: 7ft x 6.6ft | 2.1m x 2m
Materials:
Grass: 15mm (0.6in) Thick Artificial Turf – gives a real-grass performance
Anti-Skid Mat: Heavy Duty Rubber Base for use on any surface
Ball Tray: Heavy Duty Rubber
Golf Tees: Durable Rubber Designed To Cope With Regular Impacts
Miscellaneous:
Super quick & easy to assemble (fairway & stance mat slot together)
Golf Tees are removable & come in a variety of sizes
Don't just take our word for it
Want to chat?
We're here now on

live chat

right now!
Or via phone or email if you'd prefer...
Buy today, play tomorrow
Order by 9pm for next day delivery
Questions & answers
Ask fellow customers what they think!
Hide Q&As
Questions & Answers
1 question | 1 answer
Can this mat be left outside uncovered? Irish climate
Hi Shane, thank you very much for the enquiry. Yes, this product can be left outside in any weather conditions however, to preserve the lifespan, we do suggest either covering it or moving it inside during adverse weather conditions.
Many thanks,
You may also like
FORB Launch Pad Golf Practice Mat – Dual Side [2ft x 1ft]
$39.99
Socketed Professional Golf Cage and Net
$620.99
Freestanding Golf Cage & Net [Home Driving Range]
$459.99