FORB Rubber Driving Range Tees - 4 Pack Mixed Sizes
FORB Rubber Driving Range Tees - 4 Pack Mixed Sizes
Four Sizes Of Rubber Driving Range Tees For Improving Various Stroke Techniques

Work With Every Club
This four pack of rubber driving range tees features different sizes to correspond with different clubs. With the 35mm, 45mm, 55mm and 70mm tees, you'll be prepared for anything.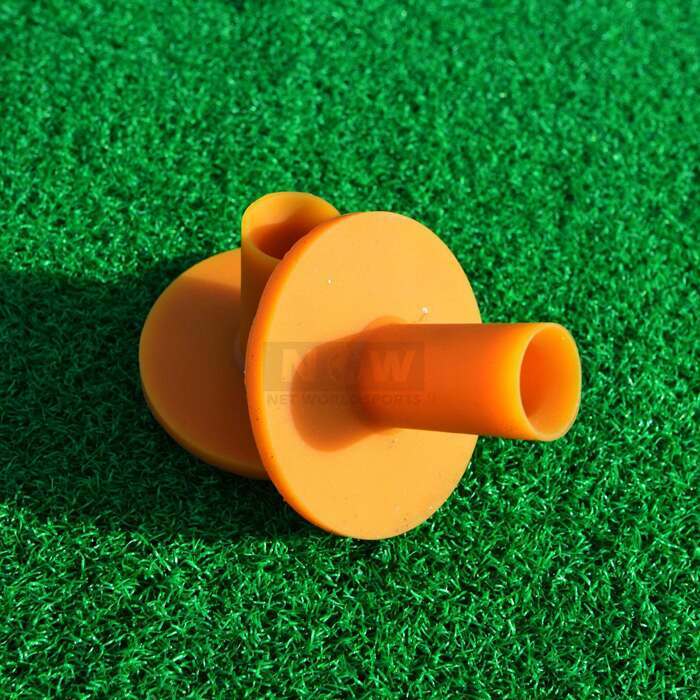 In-Built Freestanding Base
Each driving range tee stands tall on a circular base, allowing them to be used independently without the need to root them into the ground. They can also be used on any FORB mat.
Tough Driving Range Tees
Having been manufactured from ultra-durable rubber, these driving range tees can withstand several rounds of long-game practice without becoming damaged, representing a top investment.
Description
Become A Master Of Every Club With This Comprehensive Set Of Rubber Driving Range Tees
Each par presents a different challenge, which can only be overcome with the correct club choice. Ensure that you feel equally at home with large headed woods as you do when wielding an iron club with these versatile rubber driving range tees.
Coming in a selection of sizes, the tees are tailored towards different club types. The 35mm tee is for iron strokes, 45mm for rescue clubs, 55mm for both fairway woods and small headed drivers and the large 70mm tee for large headed drivers. Get your long game up to scratch with these rubber tees.
When heading to the driving range, equipped with your set of clubs, you don't want to be relying on their used tees. Take these highly durable tees down to the range with you, time and time again, and you'll be eliminating hooks and whiffs from your game in no time at all.
Standing on a circular base, these tees can theoretically be used without a mat. This freestanding design allows the tees to be used on a variety of surfaces, without having to be sunk into the ground. Perfect as an accompaniment to our FORB driving range mats to truly raise your long game to new heights.
Specifications
Tee Sizes
35mm (1 1/2in)
45mm (1 3/4in)
55mm (2 1/4in)
70mm (2 3/4in)
Pack Size
Materials
Manufactured from highly durable rubber
In-built circular base which allows the tees to stand on their own
Don't just take our word for it
Great customer service ...
Want to chat?
Contact us here and we'll get back to you as soon as possible.
Buy today, play tomorrow
Order by 9pm for next day delivery
Questions & answers
Ask fellow customers what they think!
Hide Q&As
Questions & Answers
No one has asked a question yet!
You may also like
FORB Launch Pad Golf Practice Mat [2ft x 1ft]
$36.99
FORB Academy Golf Practice Mat [5ft x 3.2ft]
$69.99
FORB Portable Garden Golf Net - 7ft x 7ft
$79.99