Replacement Stance Mat for FORB Pro Driving Range Golf Mat
Replacement Stance Mat for FORB Pro Driving Range Golf Mat
High Quality Stance Mat For Fairway Practice

Replacement Stance Mat
The perfect replacement mat for those who have been working on their stance and drive swing on the FORB Pro Driving Range Mat which now requires freshening up.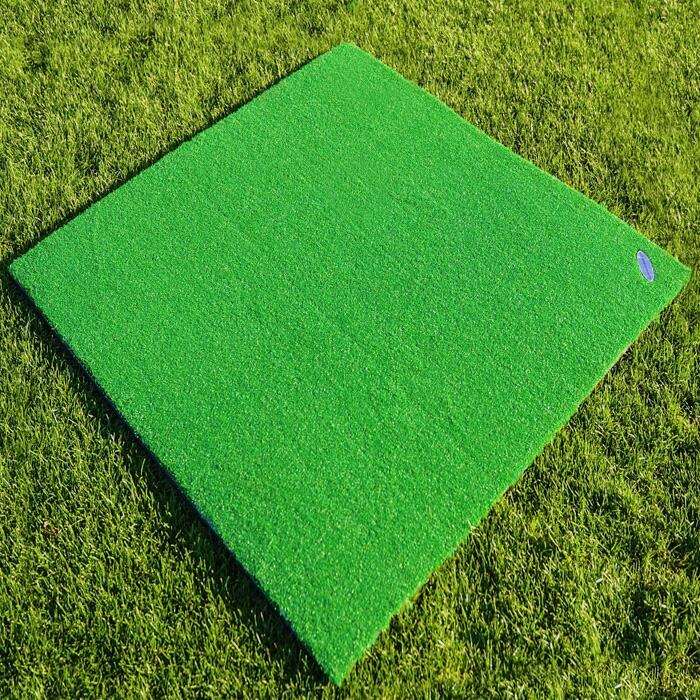 Realistic Fairway Simulation
You'll feel like your stepping out with club in hand onto a PGA Tour fairway with this stance mat. The 15mm thick artificial turf accurately replicates the feel of a real course.
Stable And Durable Mat
The stance mat comes equipped with its very own rubber base to enhance durability and stability. The base also protects the mat from rain for an enhanced lifespan.
Description
Freshen Up Your Driving Range Mat With This Replacement Stance Mat
The FORB Pro Driving Range Mat combines a stance and fairway mate to provide unparalleled golf long-game practice. Wear and tear is inevitable when you're engaging in regular practice, even with the most durable equipment on the market. The Replacement Stance Mat ensures that you can always get full use out of your driving range mat.
Manufactured from premium quality artificial turf, the stance mat replicates the conditions that you will come across on a real course. The 15mm thick grass simulates the look and feel of a fairway, leading to a practice environment which is conducive of the real thing.
At 1.2m x 1.2m, the stance mat provides plenty of room to work on your pre-shot routine and stance as you perfect all aspects of your swing. Coming equipped with an integrated anti-skid rubber base, the mat stays rigid throughout use, absorbing your movement while staying in place.
Not only does this professional quality replacement stance mat provide worthwhile and representative approach shot practice, but it also includes tees for immediate use. A 35mm, 45mm and 55mm removable rubber tee comes with the mat so you can work on your strokes at once.
Specifications
Dimensions
Driving Range Mat Size - 116cm (45in) x 116cm (45in)
Rubber Base - Anti-skid 122cm (48in) x 122cm (48in)
Miscellaneous
Grass Thickness - 15mm artificial turf which looks and feels like a real fairway
Backing - Durable nylon knitted crimp grass which is backed by 15mm foam rubber in order to stifle movement during use
Included Tees - 35mm, 45mm and 55mm removable rubber tees included
Suitable for both indoor and outdoor use on any flat surface
Don't just take our word for it
Want to chat?
We're here now on

live chat

right now!
Or via phone or email if you'd prefer...
Buy today, play tomorrow
Order by 9pm for next day delivery
Questions & answers
Ask fellow customers what they think!
Hide Q&As
Questions & Answers
No one has asked a question yet!
You may also like
FORB Launch Pad Golf Practice Mat – Dual Side [2ft x 1ft]
$39.99
FORB Academy Golf Practice Mat [5ft x 3.2ft]
$69.99
Socketed Professional Golf Cage and Net
$620.99
Freestanding Golf Cage & Net [Home Driving Range]
$459.99